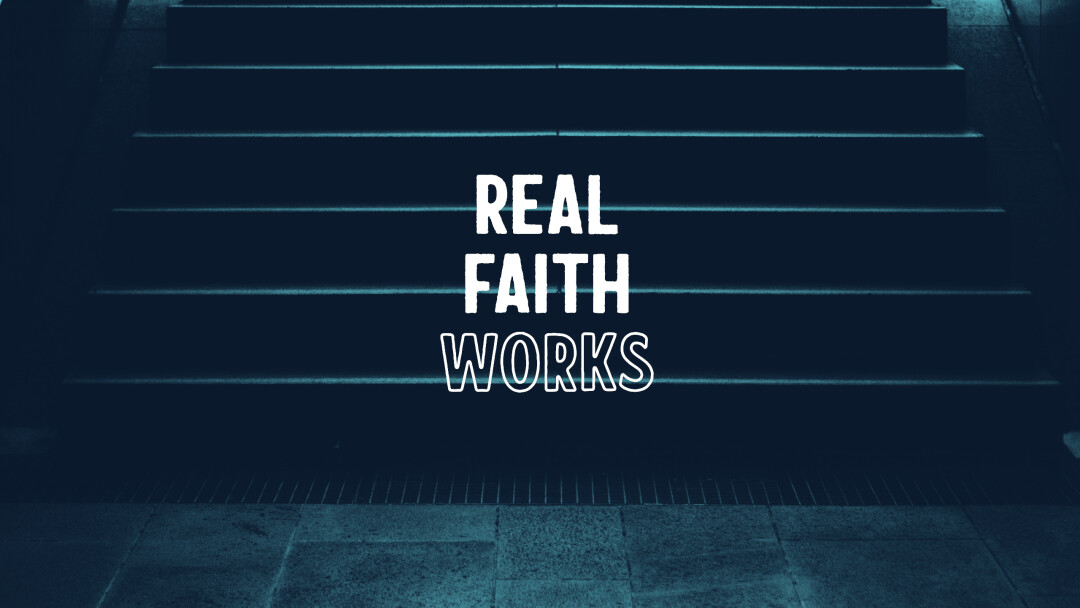 "Count it all joy, my brothers, when you meet trials of various kinds, for you now that the testing of your faith produces steadfastness. And let steadfastness have its full effect, that you may be perfect and complete, lacking in nothing."

James 1:2 – 4
Trials. We all have them. Some are major and some are minor. Difficulties can blow into our lives to dramatically change us, or they can crawl into the day-to-day moments like an irritating bug. We never really know when they will show up, but we can all be assured, they will.
In a world full of unrest right now, we need the ancient but timely message that the half-brother of Jesus penned early in the 1st Century. James uses a radical, cross-centered, cross-cultural message of authenticity and humility that breathes fresh air in troubled times. In a time when life is not working very well for many of us, real faith works.
When James uses the word trial, he is referring to a "test" in life that challenges the integrity of our faith. These trials are the means that God uses to stretch our faith and cause us to grow as His children. The trials or circumstances that test our faith come in different shapes and sizes, but they affect everyone, and they have a purpose. God uses them to prove our faith is genuine and to mold us into the person He wants us to be. The key to unlocking God's purpose in a trial is our response. With James as our guide, we can learn how to handle trials in James 1:2 – 12.
Rejoice… You are becoming more like Jesus
James tells us to "Count it all joy, brothers when you meet trials of various kinds…" Our attitude going into a trial needs to be joy. Most of us are rejoicing when we exit a trial; James says we should have joy going into the trial.
How are we to have joy? By knowing that each trial or test in life develops the character quality of steadfastness or endurance. Once endurance grows it leads to maturity (James 1:3, 4). The trials or "tests" are tough times in our lives that stretch us and cause us to grow in our relationship with Jesus Christ. These times can be difficult and that is why we must remind ourselves of God's purpose – to make us more like Jesus and reflect his character to our world.
Adversity in life is not the absence of God, but the activity of God. We can find real joy in knowing God is up to something in our life.
Respond… Surrender and trust
Once we know (v. 3) that God is up to something we must "let" or cooperate with Him as He works His divine purpose in our lives. The word "let" in James 1:2-12 occurs in several places (v. 4, 5, 6, 9), and also alluded to in James 1:12. As God stretches our faith muscle, we gain the ability to "remain under" the trial and endure. God's purpose is a growing and maturing faith. However, the key is letting God have his way in your life. The word "let" means to surrender and trust God even when the circumstances look overwhelming.
Faith is the absolute confidence or trust in God and His promises. Even when the circumstances contradict those promises, James reminds us that we can trust the character of God and His goodness through the furnace of a trial.
Perhaps you are wondering why life is not working out very well. You may even feel pulled in every direction. Let God have His way. He placed you in this situation so that you would come to the end of yourself and trust Him. Only He can provide what you need for your good and His glory (Matthew 6:25-33; Romans 8:28).
Request…Ask God for wisdom
If you are honest with yourself, there are times when you are in a trial and you simply do not know what to do. These are the moments when you need to ask God for wisdom. Wisdom for handling trials does not come naturally and can only come from one source: God. The primary means He uses to give us His wisdom is from His Word, the Bible. It not only provides knowledge of what to do, but wisdom to apply truth to life. You have 66, truth-packed books in your Bible that you should get to know. Get a grip on God's Word and let it get a grip on you.
Once you know what God's truth says, then wisdom is the application of His truth to life. James encourages us to ask in faith, not doubting. In other words, ask with the idea of knowing you desire to follow God's will, not your own. A person who is "double – minded" (v. 8) is a person who has a conflict in their soul as to who they will trust: themselves or God. We are to ask for wisdom concerning trials, but with faith, desiring to surrender and trust His will, not our own. Our response should always be to surrender and trust His will and His ways.
When circumstances present a trial that takes you down a road you have never been, ask God for direction and how you should specifically respond. Search the Bible for answers or ask someone to help you. God gives generously (v. 5) for those who ask.
Remember…God is faithful to His promises
Those who stand up or remain under the trial are blessed and find true happiness and joy regardless of the circumstances. You will be blessed in two ways. First, you will be rewarded in this life with maturity and spiritual growth as you become like Jesus. God is refining you, showing you the genuineness of your faith. You will have wisdom and insight into God's purposes and plans for your life. Second, you will be blessed because you will receive "the crown of life" (v. 12). Your faith, as it grows, will continue to provide you with the assurance of your security in Christ. And one day, this world will pass away along with its trials, and you will faithfully cross the finish line seeing your Savior face-to-face.
But, in the meantime, we are to be those who are "dispersed" just like the readers of this book (James 1:1). The word means to be "scattered like seed." As we go through trials, we are to live in such a way that by our lips and the living color of our lives, we demonstrate the reality of our faith. Why? So we might bear fruit and others find hope in Jesus Christ. As God refines us through the trials of life, it proves to others that faith in Jesus is the only hope for our broken world and broken lives.
Real faith works. Are you living it?
---
For more, catch up on Pastor Roy's sermon from November 1, 2020 "Real Faith Works When Life Doesn't."